In 1988, many people had heard of the Medellin Colombia Drug Cartels, the notorious Pablo Escobar was all over the news, earning hundreds of Millions of US dollars selling cocaine to US Crime Bosses. Hugo Ortega owned a mountain top compound west of Medellin, semis, jet planes and his own private army. He had big plans and asked Escobar, the Snow Queen and Castro of Cuba to help him take control of the Colombian Government.
PSL Holdings LTD based in Bogota owns much of Latin America's industry, this company dates back before there were history books. One man William Johnson has been the CEO since the beginning, so he's got to be old, it's said his father is still active in this company. Ortega learns about a sixteen-year-old high school girl in the US that is rumored to be Johnson's girlfriend, kidnap her and he could take control of everything. Four of his meanest enforcers headed north to Missouri… Big mistake, he should have checked the history of this young girl and sent at least one hundred men to do the job.
Ortega has been the sole supplier of cocaine to the Smith Brothers crime syndicate out of Tulsa. Ortega has vanished off his mountain west of Medelin, Michael Smith and his 50-member gang don't even deserve a place in the history books after 50 years of killing, stealing, prostitution and Extorting profits from businesses throughout the entire mid-west. Michael Smith has been the North American Heavyweight Arm-Wrestling champ, holding the title for 15 years.
4th of July Company Picnic has been a major challenge, usually there's two or three thousand people. This year it is to be maybe 10,000, but on Friday July ONE, we learned there could be 40,000 counting all the bikers coming from as far away as Florida, California, even Canada. They wanted to see the girl who ended Michael Smith's reign of terror; also how could this girl now own 130 Motorcycle Dealerships. There had to be a rat in the woodpile and bikers want FACTS.
My friend Susie and I have been told to dress to be good examples. Do not dress like a pair of teenage sluts as we've been portrayed in the past. Okay, I can look great in almost any kind of clothes as long as I can show off my great tan. My friend Susie is only five foot, but she does have an amazing tanned body.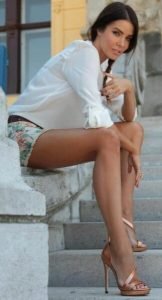 Most bikers already know Arlin Jones, who supposedly has just quit being a Crime Boss and is going legit. Where are we going to get our drugs if he's really QUIT? There are lots of questions floating around that need answers. OK, a sixteen year old high school sophomore has gone from traveling through town on her skateboard, to driving a new white Cadilac Alante convertible. That's a big step, and now its being said she owns 130 bike dealerships?
These people in South Missouri are going to feed forty-thousand people for FREE? YEAH, Right! That much food even if it's only baloney sandwiches and bottled water would cost a lot of money. This we've got to see. Bikers by the thousands were filling the highways, all heading to Cedarville, Missouri. What is the rest of this story?
The Smith Bothers rented hookers at every TruckStop and military base in several states. Some of these hookers used to charge $200/hour; did the Smiths really rip them off for all of that? As the crowds grew in the days leading up to this event, word spread that you could choose from four locations, ALL having pretty girls, FREE food and live music. Even the Biker ONE dealership in Springfield, where Michael Smith lost his title is throwing one hell of a party. The former owner has told his customers to spread the word, the new sexy boss lady will show up before dark.
Michael Smith deserved what happened to him here in this parking lot, he couldn't handle the defeat and later died in a double murder with his woman.
If you would like something BETTER than Star Wars and Star Trek put together. The pyramids at Giza were NOT built by the Egyptians, they were built when Africa was known as Libya, 10,553 BC. Humans were in Mexico 500,000 years ago, take a closer look at other sites.
How could Marcos Delphene, PSL's new Chief Engineer, take Susie Wilson to Machu Picchu in the highlands of southern Peru on their first date, then make it to the Grand Ole Opry in Nashville that same evening?
Who the hell is Shelby Gore and how does she stay alive to face another day? Hundreds of former hookers, now work as models selling bikes from 130 Midwest dealerships and modeling for the Biker Girls magazine.